How Much Does New Flooring Cost?
This is a seemingly simple question with a complicated answer. When looking to purchase flooring, most people ask themselves these questions:
What type of flooring do I want? Carpet? Hardwood? Tile?
What rooms in my house should I do?
How much is this all going to cost?
The answer to how much everything will cost will often determine what rooms will be done, what type of flooring and sometimes even if you'll purchase flooring at all.
With the amount of variable options in floor covering, it isn't all that different from purchasing a car. You can purchase a 2018 Ford Mustang for $25k. That price could quickly jump to over $40k once you add automatic transmission, rear camera, leather seats, rear spoiler, upgraded rim and tires, security system, etc.
You can apply similar variables, if not more to flooring:
Floor Prep – Are there any cracks or deviations in the subfloor that need to be repaired prior to install?
Existing Floor Rip out and & haul away – Does existing flooring need to be torn out and removed? If so, is it carpet, hardwood, tile, a floating floor? A combination of some or all?
Quarter Round and/or Transition Pieces – Are we replacing and installing baseboards, quarter round and/or other transition pieces between rooms?
Underlayment – Will the laminate or vinyl require additional sound or moisture underlayment?
Amount of material needed – How much additional material is required to complete the job after you factor in waste, cuts and installation pattern?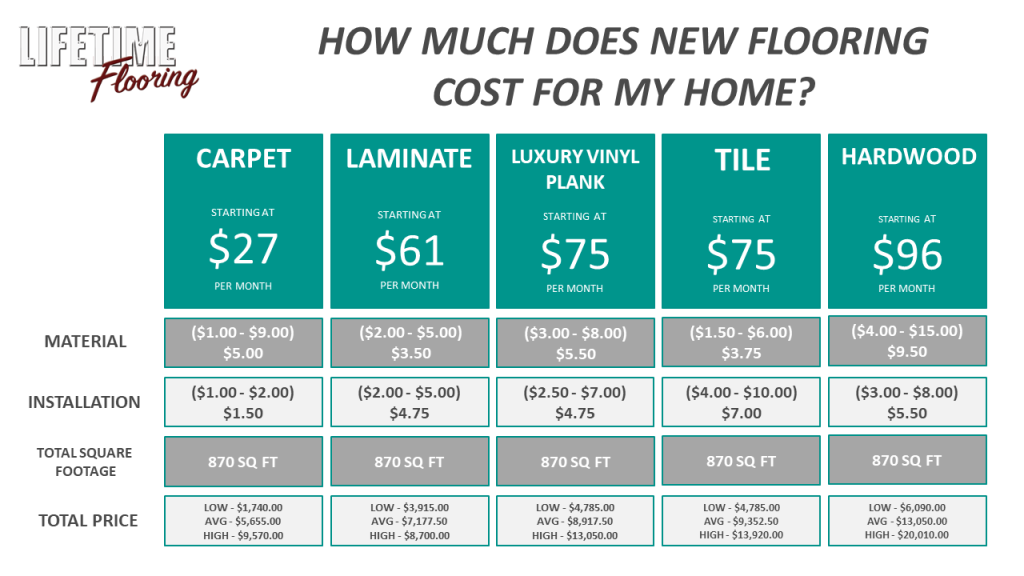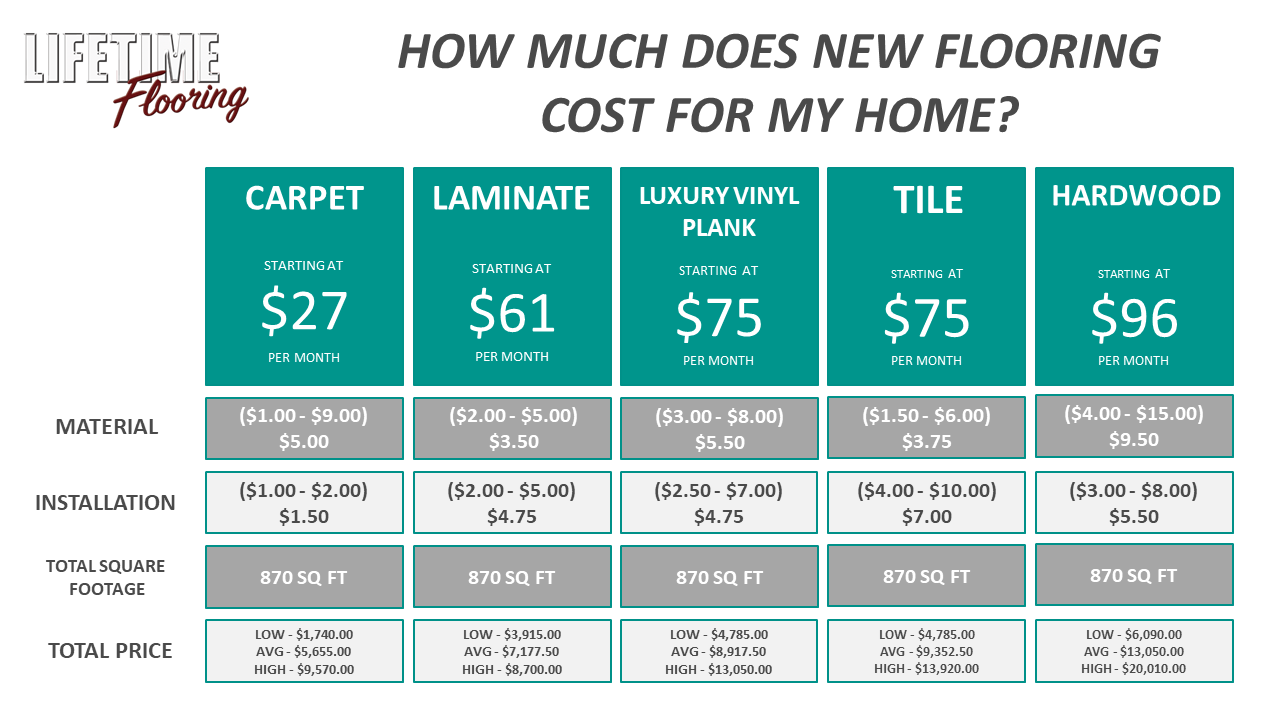 So how much does flooring cost for someone with a 870 sf home project? It could be anywhere between $1,740.00 and $20,010.00.
Most people understand that upgrading their flooring throughout their home is an investment that not only improves the look and feel of your home but also the value. Unfortunately, there are plenty who only focus on the lowest price, seek out the cheapest installer on Craigslist and end up sacrificing quality, warranties and the assurance worthy of their investment.
Lifetime Flooring provides a complete turn-key solution for you. With quality products and competitive pricing, Lifetime will bring you the flooring, installation, quality and warranties you deserve for such an important home improvement project.
Shopping for new floors does not have to be as intimidating and confusing as many make it out to be!
LIFETIME FLOORING FINANCING
Thanks to our partnership with Lifetime Enclosures, we are able to offer the most flexible and affordable financing plans in Jacksonville. Learn about our incredible financing plans here.